Registration Info
---
Who can play?
Novice- Non-Tackle Program (6-7 Yrs Old) Co-Ed
Atom- Tackle Program (8-10 Yrs Old) Co-Ed
Peewee- Tackle Program (11-12 Yrs Old) Co-Ed
Bantam- Tackle Program (13-15 Yrs Old) Co-Ed Not registered for Gr.10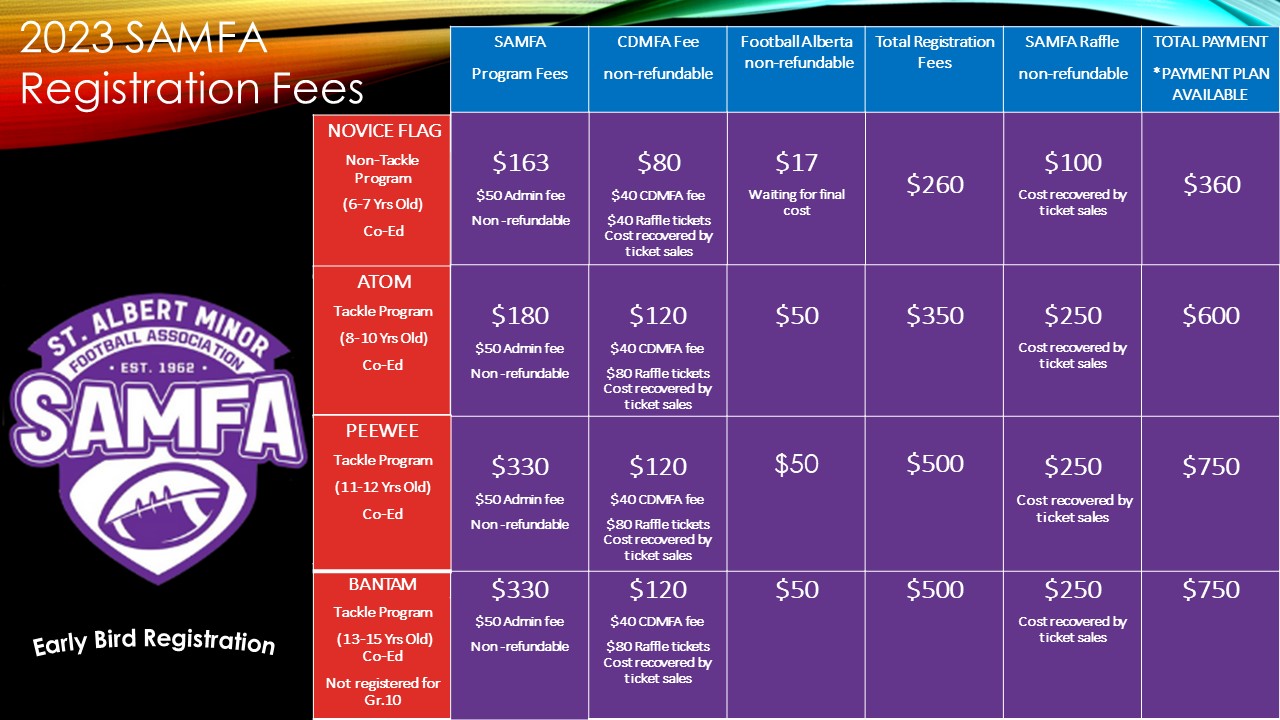 Payment Plans:
We will work with families to assist them in any way we can. Don't hesitate to get in touch with our Registrar to set up a payment plan. We will do our best to ensure your child/children can enjoy a great football season!
1/3 of the payment due at the time of registration ( Does not include CDMFA and Football Alberta fees ,which are also due at the time registration )
1/3 of the payment is due on June 15th
1/3 of the payment is due on August 15th
Season:
Atom:
June 14/16/21/23 - 6:00 PM-7:30 PM - Larry O. St Albert

Peewee:

June 12/19 -6:00 PM - 7:30 PM ( Mondays ) Larry O. St Albert
June 14/16/21/23 - 6:30 PM-8:00 PM - Larry O. St Albert
June 18 - 10:00 AM to noon - Larry O

Bantam:

June 12/19 7:30 PM - 9:00 PM (Mondays )- Larry O. St Albert
June 14/16/ 21/23 - 8:00 PM -9-30 PM
June 18 - noon to 2:00 PM - Larry O. St Albert
NO PRACTICE OR GAMES IN JULY
August schedule TBA
September TBA
October TBA
Please watch Emails and Social Media for more info on exact dates, and Game schedule.
Registration Fees Cover:
(included but not limited to:)
Equipment upkeep and professional cleaning (Helmets, shoulder pads, girdles, practice and game uniforms)
Mouthguards, belts and knee pads
Rental cost for practice field, lights and storage. Rental fees payable to City of St Albert.
Player insurance through Football Alberta
League Fees to CDMFA
Transportation to and from games ( if required )
Team Photo Package
Award night and Season End Party
SAMFA shirts ( if required )
First Aid and Trainer Costs
Coaching Development
SAMFA rental cost for Storage and Lease Space. Lease currently with St Albert Rugby Club
Equipment (with deposit)
Equipment Deposit
All necessary protective equipment is supplied by the SAMFA. The only equipment that you must provide is cleats, which cannot have any metal cleats. An equipment deposit of $600 is required before any equipment can be issued to a participant. This will be by way of POST-DATED CHEQUE (for December 31) and will not be cashed unless the equipment is not returned at the conclusion of the season. The cheque should be made out to "SAMFA" or "St Albert Minor Football Club".
Volunteer Participation
Our football club relies completely on parent/guardian and family participation in order to realize a fun and successful season. It is an expectation of registration that each players parent/guardian(s) and/or family will assist in some capacity during the season by volunteering for duties at games or community events.
There are many areas where volunteers are needed: throughout the football season there is a need for coaches, team managers, equipment managers, first-aiders (aka. "trainers"), and then during the games there is a need for people to help with sideline duties, concessions, videography, field setup and other operational tasks. Previous experience in any of these areas is not necessary. More involvement by the entire SAMFA Football family leads to a high quality, fun experience for all involved .
Volunteer Commitments per player, per season are as follows:
Each dib is worth $100.00
Novice not required
Atoms - 2 dibs are required
Peewee and Bantam -3 dibs are required
Your Deposit as described previously, will be returned at the end of season provided the
requirements have been met. If requirements are not fulfilled, SAMFA will deposit/cash the cheque.
A list of volunteer jobs will be available and Managed by Team Manager.
Below a possible jobs include but are not limited to:
Team Manager
Swag/Clothing Coordinator
Parade
Announcer for home games
Stick crew
Concession Coordinator
Once you are signed up for your volunteer job, you must ensure the shift is covered. Your cheque will be cashed if you do not show up or cover your shift.
Some parents don't have the time or desire to volunteer and choose to pay the fee and not participate in volunteering. Although we would prefer volunteer assistance, we understand time restraints, and accordingly, this option is available to you. Please let our Registrar know at the time of registration if you choose this option.
Field staff members (Coaches, Trainers, Team Managers) and Board members are exempt from the volunteer jobs listed above as they have already committed much time and energy to our club.
Fee Assistance Options
SAMFA is committed to allowing all players who want to play football a chance to play. If you feel you are unable to pay our fees, please email the Registrar prior to registration and we will ensure that your son or daughter is able to be a part of SAMFA.
Kidsport
Kidsport St.Albert - St.Albert residents Application, click Here
Kidsport Alberta - Alberta Application, click Here
Kidsport Edmonton -For Edmonton residents, click Here
Complete this application and bring it with you when you register for football. You must also bring with you a copy of the supporting documents noted on the application. We will complete our portion and fax/mail it to Kidsport right away.
Canadian Tire Jumpstart Program
You must apply directly to this program yourself. We cannot do it on your behalf. To start your application, Here
For further information on refund and equipment, please click on the following Link SAMFA Policies